Double Roll Raffle Tickets
♦ Double Roll Raffle Tickets. ♦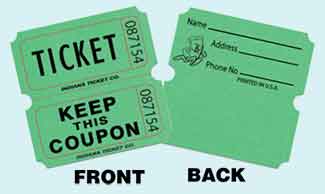 Double Raffle Tickets may be used for 50-50 Raffles, Gun Raffles,
Fund Raising Events,Coat Checks, Auctions and all kinds of other events,
to help increase your profits and have a good time as well.
Double Raffle Tickets are 2" x 2", consecutively numbered on both parts,
with a perferation down the middle in rolls of 2,000 double tickets.
When buying Double Roll Tickets, don't Just look at the price of the ticket.
See what it will cost you

INCLUDING the DELIVERY COST

!

All Of Our Ticket Prices Include:
Start Your RAFFLE TICKET by
Clicking On One of The 8 Ticket Colors Below:
While you have a choice of color, specific number sequences are not selectable.